Gail Z. Martin 30 Days to Online PR and Marketing Success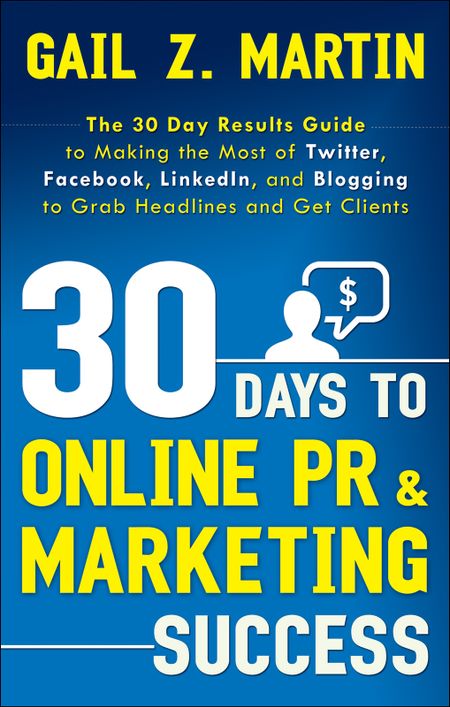 Google and the Internet have changed how the PR game is played – and created an explosion of blogs, Websites, and social media platforms with an insatiable need for news. Small companies can create global visibility for their products on a pennies-a-day budget with online PR and Internet marketing – If they know the tricks of the trade. Using a unique Rule of 30™approach, 30 Days to Online PR and Marketing Success helps busy business owners see results fast. Thirty short chapters are packed with real-world tips and proven techniques to create online PR and marketing campaigns that drive traffic to your site and buyers to your products.You'll quickly and easily learn how to: • Use online PR and keywords to climb to the top of search-engine rankings • Reach reporters and consumers with hot news and information • Blend online PR and Internet marketing to reach millions of targeted prospects on a small budget Looking for rapid online marketing results on a shoestring budget? 30 Days to Online PR & Marketing Success is for you. Google и Интернет полностью изменили современное представление о рекламе – блоги, сайты, социальные сети… Потребность в новостях просто переходит все допустимые пределы. Используя уникальное правило 30-дневного онлайн-пиара, постоянно занятые владельцы бизнеса без труда узнают все, что им необходимо о рекламе, и создадут глобальную видимость своего продукта. Еще вы узнаете, как: • использовать онлайн-PR и правильные ключевые слова для того, чтобы подняться на вершину рейтинга в поисковых системах; • удовлетворить свою потребность в информации и необходимых новостях; • смешать онлайн-PR и интернет-маркетинг для достижения целей при наличии небольшого бюджета. Если вы – тот человек, который привык в короткие сроки добиваться внушительных результатов, то книга просто создана для вас.
/ / похожие
Подробнее
Philip Sheldrake The Business of Influence. Reframing Marketing and PR for the Digital Age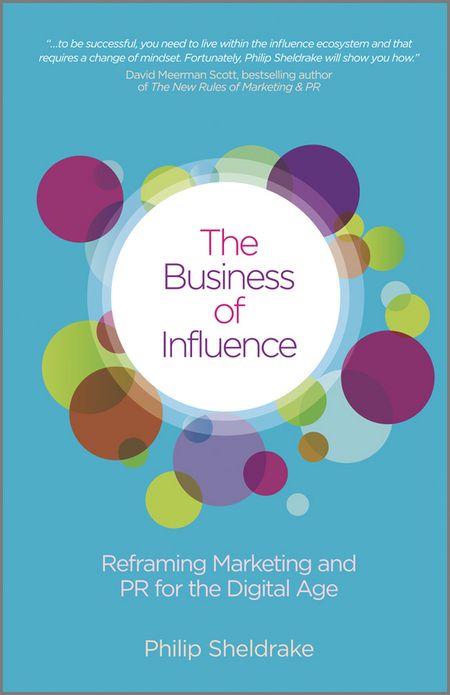 Media has most definitely evolved, as have the ways in which we contemplate, design, communicate and execute strategy. And rather than technological evolution, we're plainly in the midst of a technological revolution. We have no choice then but to reframe marketing and PR in the context of 21st Century technology, 21st Century media and disintermediation, and 21st Century articulation of and appreciation for business strategy. "Today, every organization is in the influence business. We influence customers to buy from us, employees to work for us, and the media to write about us. Gone are the days when you could be your own island. Now, to be successful, you need to live within the influence ecosystem and that requires a change of mindset. Fortunately, Philip Sheldrake will show you how." David Meerman Scott, bestselling author of The New Rules of Marketing & PR and the new hit Real-Time Marketing & PR
/ / похожие
Подробнее
David Meerman Scott Real-Time Marketing and PR. How to Instantly Engage Your Market, Connect with Customers, and Create Products that Grow Your Business Now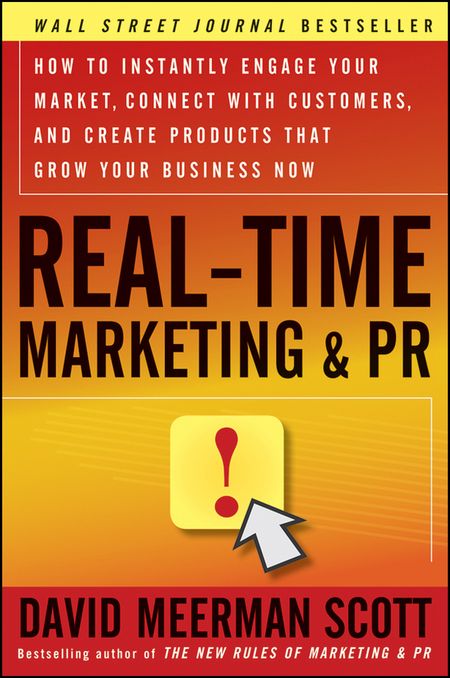 Launch effective real-time communications to win in today's always-on world Gone are the days when you could plan out your marketing and public relations programs well in advance and release them on your timetable. «Real time» means news breaks over minutes, not days. It means companies develop (or refine) products or services instantly, based on feedback from customers or events in the marketplace. And it's when businesses see an opportunity and are the first to act on it. In this eye-opening follow-up to The New Rules of Marketing and PR, a BusinessWeek bestseller, David Meerman Scott reveals the proven, practical steps to take your business into the real-time era. Find out how to act and react flexibly as events occur, position your brand in the always-on world of the Web, and avoid embarrassing mistakes and missteps. Real-Time Marketing and PR will also enable you to: Develop a business culture that encourages speed over sloth Read buying signals as people interact with your online information Crowdsource product development, naming, and even marketing materials such as online videos Engage reporters to shape stories as they are being written Command premium prices by delivering products at speed Deploy technology to listen in on millions of online discussions and instantly engage with customers and buyers Scale and media buying power are no longer a decisive advantage. What counts today is speed and agility. While your competitors scramble to adjust, you can seize the initiative, open new channels, and grow your brand. Master Real-Time Marketing and PR today and become the first to act, the first to respond, and the first to win!
/ / похожие
Подробнее
David Meerman Scott The New Rules of Marketing and PR. How to Use Social Media, Online Video, Mobile Applications, Blogs, News Releases, and Viral Marketing to Reach Buyers Directly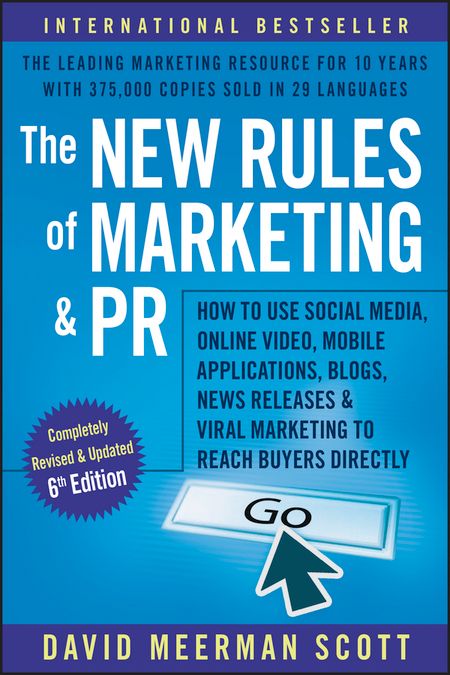 The international bestseller—now in a new edition When it comes to marketing, anything goes in the Digital Age, right? Well, not quite. While marketing and public relations tactics do seem to change overnight, every smart businessperson knows that it takes a lot more than the 'next big thing.' The New Rules of Marketing & PR is an international bestseller with more than 375,000 copies sold in twenty-nine languages. In the latest edition of this pioneering guide to the future of marketing, you'll get a step-by-step action plan for leveraging the power of the latest approaches to generating attention for your idea or your business. You'll learn how get the right information to the right people at the right time—at a fraction of the cost of traditional advertising. The Internet continues to change the way people communicate and interact with each other, and if you're struggling to keep up with what's trending in social media, online videos, apps, blogs, or more, your product or service is bound to get lost in the ether. In The New Rules of Marketing & PR, you'll get access to the tried-and-true rules that will keep you ahead of the curve when using the latest and greatest digital spaces to their fullest PR, marketing, and customer-communications potential. Keeping in mind that your audience is savvy and crunched for time, this essential guide shows you how to cut through the online clutter to ensure that your message gets seen and heard. Serves as the ideal resource for entrepreneurs, business owners, marketers, PR professionals, and non-profit managers Offers a wealth of compelling case studies and real-world examples Includes information on new platforms including Facebook Live and Snapchat Shows both small and large organizations how to best use Web-based communication Finally, everything you need to speak directly to your audience and establish a personal link with those who make your business work is in one place.
/ / похожие
Подробнее
Mark Weiner Unleashing the Power of PR. A Contrarian's Guide to Marketing and Communication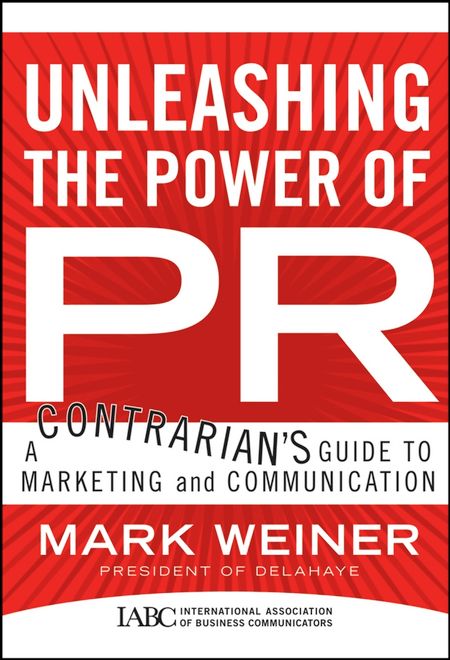 Using dozens of case studies from well-known companies such as General Electric, FedEx, Procter & Gamble, Merck, Boeing, and Intel, Delahaye president and public relations scientist Mark Weiner offers a research-based model for creating and implementing public relations programs that will generate desired results and improve an organization's ROI. Written as a highly accessible hands-on guide, Unleashing the Power of PR explains how to use market research methods to plan and evaluate public relations programs scientifically. The author explores the benefit of learning to speak to senior executives in a way that will improve communications and ultimately help strengthen PR performance and results. In addition, the book debunks common myths—such as "PR is impossible to measure!"—that undercut the effectiveness of PR and obscure its real value.
/ / похожие
Подробнее
Philip Kotler Marketing Insights from A to Z. 80 Concepts Every Manager Needs to Know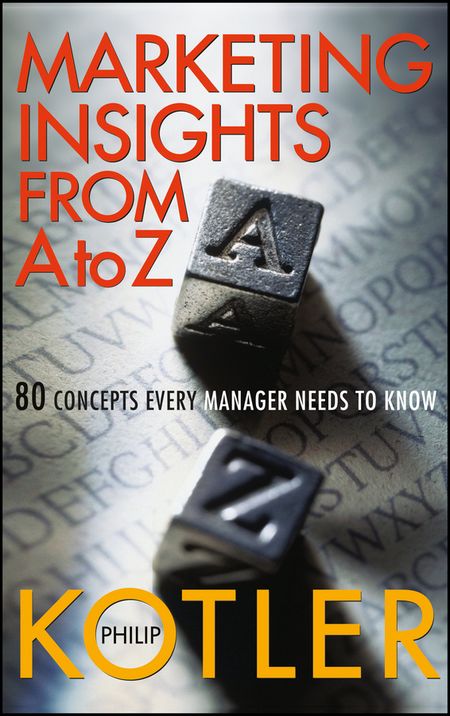 The most renowned figure in the world of marketing offers the new rules to the game for marketing professionals and business leaders alike In Marketing Insights from A to Z, Philip Kotler, one of the undisputed fathers of modern marketing, redefines marketing's fundamental concepts from A to Z, highlighting how business has changed and how marketing must change with it. He predicts that over the next decade marketing techniques will require a complete overhaul. Furthermore, the future of marketing is in company-wide marketing initiatives, not in a reliance on a single marketing department. This concise, stimulating book relays fundamental ideas fast for busy executives and marketing professionals. Marketing Insights from A to Z presents the enlightened and well-informed musings of a true master of the art of marketing based on his distinguished forty-year career in the business. Other topics include branding, experiential advertising, customer relationship management, leadership, marketing ethics, positioning, recession marketing, technology, overall strategy, and much more. Philip Kotler (Chicago, IL) is the father of modern marketing and the S. C. Johnson and Son Distinguished Professor of International Marketing at Northwestern University's Kellogg Graduate School of Management, one of the definitive marketing programs in the world. Kotler is the author of twenty books and a consultant to nonprofit organizations and leading corporations such as IBM, General Electric, Bank of America, and AT&T.
/ / похожие
Подробнее
Michael Dunn The Marketing Accountability Imperative. Driving Superior Returns on Marketing Investments
Making accountable marketing decisions to improve the efficiency of spending In this practical guide, Prophet CEO Michael Dunn teams up with marketing effectiveness expert Chris Halsall to help marketing managers and CMOs make better marketing spending decisions and better evaluate the success or failure of these decisions. They show how to sort through the clutter of metrics, measurement, and analytic options, and provide the practical information needed to help establish the marketing accountability imperative–highlighting the critical need for more effective stewardship of marketing spending.
/ / похожие
Подробнее
Cambridge English for Marketing (+ CD-ROM)
Endorsed by the Chartered Institute of Marketing (CIM), this short course (40-60 hours) uses practical tasks and realistic scenarios to develop the specialist language and communication skills needed for a career in marketing. Cambridge English for Marketing covers a wide range of marketing topics, from understanding the role of marketing in an organisation through to launching a new product. The ten standalone units allow learners to focus on the areas of marketing most important to them and as well as teaching specialist vocabulary and marketing theory, the course also develops job-specific skills such as carrying out marketing audits, preparing marketing campaigns, organising events and developing digital marketing strategies. The course requires no specialist knowledge on the part of the teacher and comprehensive teacher's notes are available online.
/ / похожие
Подробнее
Foundations of Marketing
Foundations of Marketing provides a highly accessible and absorbing introduction that explores the combination between theory and real-world practice. Moreover, this contemporary text expands the generic marketing mix beyond the 7Ps to 10Ps with the inclusion of Psychology, Performance and Packaging. There are also discussions on the debate between the marketing mix and the relationship marketing schools of thought, competitive intelligence, marketing research, branding and the strategic implications of marketing.
/ / похожие
Подробнее
Alex Singleton The PR Masterclass. How to develop a public relations strategy that works!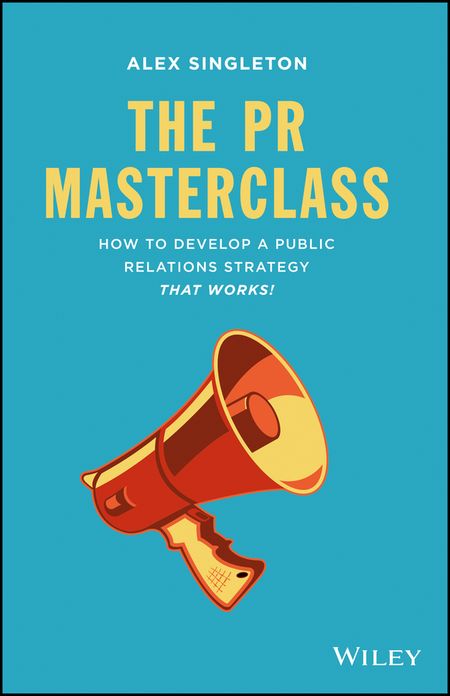 The PR Masterclass is written by former newspaper, magazine and digital journalist Alex Singleton, who is now a prominent PR trainer and consultant. It reveals the secrets of effective PR and shows how to put in place a practical, reliable and successful media strategy for your product, business or activity – one that delivers the greatest results. Through the book, you get to discover how to develop and pitch effective newsworthy material, regardless of your budget. The PR Masterclass is aimed at PR professionals as well as small business owners and entrepreneurs implementing a PR strategy. «PR can do more for your money than any other marketing tool. But very few people understand how to use it. Alex does because he has been at the receiving end. So will you if you read this remarkably practical book.» —Drayton Bird, author, Commonsense Direct and Digital Marketing «The lessons contained within The PR Masterclass should be plastered over the walls of organisations seeking to utilise the media effectively for their campaigns. This book is a must-have reference point.» —Ryan Bourne, CityAM columnist and Head of Economic Research, Centre for Policy Studies «This is an important book about public relations and how the media is changing. Singleton is a straight-talking journalist-turned-practitioner who pulls no punches. He calls on the industry to grow up and adopt the rigour of a professional discipline. It's a call to action that I wholly heartedly support. You should read The PR Masterclass if you're new to public relations or work in the profession and want to continue doing so.» —Stephen Waddington, European director, Ketchum, and 2014 President of the Chartered Institute of Public Relations (CIPR) «Provides all you need to know about securing press coverage.» —Fraser Seitel, O'Dwyer's PR magazine «Every page is packed with insight and practical advice.» —Steve Harrison, co-founder, Harrison Troughton Wunderman «Written in a no-nonsense style, every chapter contains a mine of information about the subject. What's more, it's clear that Alex knows the business inside out. This is the kind of book you need to have close at hand. Do what it says, and you'll be miles ahead with your PR.» —James Hammond, brand consultant «Alex Singleton's book on public relations strategy is an excellent practical guide to the real world of PR.» —Ray Hiebert, Editor, Public Relations Review
/ / похожие
Подробнее
Reklama, kampanie reklamowe, marketing - wiadomości z ...
Najnowsze wiadomości dotyczące rynku reklamy w Polsce. Informacje z pierwszej ręki - WirtualneMedia.pl
Marketing - prehľad platov | našeplaty.sk
platy, plat, slovenský prieskum platov, monitoring platov na Slovensku, marketing, médiá, reklama, reklamný, reklamná, agentúra, práca, kariéra, profesia
Работа в сфере рекламы, маркетинга, PR в Москве
As a VP of Marketing - you will work closely with the CEOs of acquired companies to revamp the overall marketing...
BRIEF - marketing i sprzedaż | reklama | media | pr
Marketing, biznes, reklama w Polsce i na świecie. Najnowsze informacje i wydarzenia z rynku mediów. Poradniki oraz case study.
Marketing / PR / media Rzeszów - Ogłoszenia OLX.pl
Marketing / PR / media Rzeszów ... Klikając przycisk zarejestruj się, akceptuję Regulamin. Przyjmuję do wiadomości, że OLX wykorzystuje moje dane osobowe zgodnie z Polityką prywatności oraz Polityką dotyczącą plików cookie i podobnych technologii.
HOME [www.m-ark.cz]
Naše nápady, kampaně, materiály a propagační spoty vždy obstály v silné konkurenci. Dodnes agentura za kreativní nápady pro své klienty získala více jak 50 ocenění na národních a mezinárodních přehlídkách.
Viral marketing - Wikipedia
Viral marketing or viral advertising is a business strategy that uses existing social networks to promote a product. Its name refers to how consumers spread information about a product with other people in their social networks, much in the same way that a virus spreads from one person to another. It can be delivered by word of mouth or ...
In Digital Marketing | Szkolenia marketingowe, Adwords, e ...
In Digital Marketing Conference to 2 dni, 2 sceny działające równocześnie, bogaty program z możliwością dowolnego wyboru prelekcji. Całość poświęcona digital marketingowi i pracy w świecie online.
BTL reklama – Wikipedie
Marketingovými profesionály všeobecně používaná zkratka BTL reklama pochází z anglického odborného termínu below the line advertising.
sprawny.marketing • 36 Szkoleń • 3 Konferencje • Magazyn ...
sprawny.marketing to serwis skupiający specjalistów i osoby zainteresowane marketingiem. Dzielimy się wiedzą, szkolimy, testujemy narzędzia i wydajemy największy branżowy magazyn.
WhitePress | content marketing & influencer marketing
Nasze usługi skierowane są do "świadomych" klientów oraz do agencji interaktywnych, agencji SEO, domów mediowych i firm działających w branży e-PR.
Exhibition REKLAMA: Equipment, Materials and Technologies ...
Top Industry Event for Manufacturers and Customers. Latest technology solutions, top products and world trends. Source of inspiration and the most effective tool to achieve positive financial result!
Homepage | MediaGuru
Storyous: Přesné cílení je pro nás v B2B marketingu zásadní Marketing; O tom, jak lze zpřesnit cílení v B2B marketingu, o magazínu Spirit i o expanzi do zahraničí, hovoří Igor Třeslín a Marc Delacroix ze Storyous.
Účetnictví | Marketing - ROTSCHEDL BUSINESS MARKET
Někdy se člověk setkává s rozdílnými přístupy k určité problematice a marketing je toho ukázkovým příkladem. Někteří jej mylně považují za cestu jak propagovat své služby, případně svou firmu, jiní naopak jej považují za klíčovou aktivitu ve firmě vedoucí k dlouhodobému rozvoji podnikání.
Ogilvy (agency) - Wikipedia
Ogilvy is a New York City-based British advertising, marketing and public relations agency. It started as a London advertising agency founded in 1850 by Edmund Mather, which in 1964 became known as Ogilvy & Mather after merging with a New York City agency that was founded in 1948 by David Ogilvy.
Бизнес-тренинги в Москве, бизнес-курсы – записать на ...
Тренинги для персонала должны быть регулярными. Образовательные курсы не просто помогают повысить эффективность сотрудников, но и обеспечивают компании новые возможности для развития.
Veľkoplošná tlač, reklama, polepy, reklamné médiá ...
Tlač a reklama. ImageWell je viac ako 17 rokov skúseností s tlačou a prípravou citylightov, billboardov, bigboardov, megaboardov. Tlačíme na papier, samolepku, mesh či banner (PVC plachty a sieťoviny).
Media, Reklama, Internet, PR, Telewizja, Radio - najnowsze ...
Portal o mediach, reklamie, internecie, PR, telekomunikacji - nr 1 w Polsce - WirtualneMedia.pl - wiadomości z pierwszej ręki
Médiář — Marketing, média, strategie, sales - a hlavně to ...
The cookie settings on this website are set to "allow cookies" to give you the best browsing experience possible. If you continue to use this website without changing your cookie settings or you click "Accept" below then you are consenting to this.
LinkedIn Marketing & Slideshare + Twitter Marketing
Dzień 1 - Szkolenie LinkedIn Marketing & SlideShare. LinkedIn to miejsce, gdzie znajduje się ponad 400 milionów osób z różnych branż i krajów szukających usług i rozwiązań dla swoich biznesów.
Aktuálně - Marketing - ANERI s.r.o.
Jaké změny přinese GDPR? 17.1.2018 - Nařízení Evropského parlamentu a Rady (EU) 2016/679 o ochraně fyzických osob v souvislosti se zpracováním a shromažďováním osobních údajů neboli GDPR přináší řadu změn.
Vrste i karakteristike medija | Edukacija
PR menadžer treba da ima sva ovlašćenja za odnose sa medijima, tako da u svakom trenutku može da istupi ispred svoje kompanije da plasira određene informacije, da uvek može da obezbedi pravog sagovornika za određenu temu.
Agencja - ROOTS
Event Manager Training Group wprowadził do swojej oferty nowe szkolenie: "Event marketing w strategii firmy i skuteczna komunikacja wydarzeń - narzędzia do osiągnięcia sukcesu o szerokim zasięgu", które prowadzą partnerki ROOTS: Anna Godzisz oraz Anna Rogowiecka.
News and Media Holding - Inzercia
News and Media Holding je najväčšou slovenskou mediálnou spoločnosťou. Do nášho portfólia patrí najširšia škála printových a online titulov.
PR agentura | AMI Communications | amic.cz
Jsme největší česká PR agentura. Za naším know-how stojí více než 20 let práce. Své zkušenosti můžeme uplatnit i při práci pro vás.